The Southern and Ancient Beaches Challenge 2020
(Click on the images to enlarge)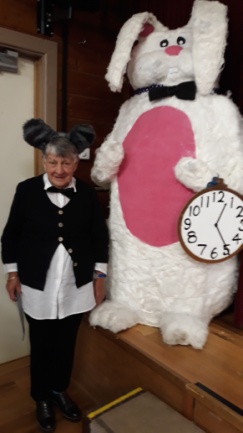 Did you miss our recent trip to Wonderland? Well it's been voted the best yet! We just might have another next year.
You won't win red master points (whatever they are) but you get to play competitive bridge and maybe get your names on a trophy. We can guarantee you some amazing costumes, a fair chance to win a prize and lots of laughs along the way.
Here's a taster to encourage you to come along …
Sixteen teams jumped into motor cars or scurried down rabbit holes to emerge in South Arm sporting mad hats of every description. Decked in pink or hidden under mushrooms or flouncing about as queens and knaves it was hard to think of these characters as serious bridge players.
Flamingos perched on one leg bravely teetering and flapping. Their efforts won them the Best Dressed Team Prize. A couple of knaves brought their tarts along. A team of somewhat dysfunctional Disorderlies gyrated and quivered their way to a meltdown and the coveted Strutters Prize. The Lynch Mob dangled their hangman's nooses menacingly and the Best Dressed Dormouse was undoubtedly … um … a dormouse.
And then there was lunch -- BBQ and salad followed by tiramisu, meringues and fruit all consumed in the sunshine and in excellent company.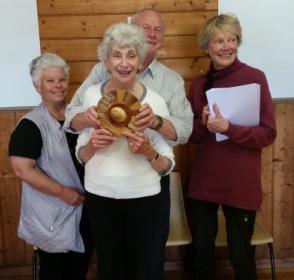 The bridge was seriously contested with winners and losers emerging from beneath piles of scoresheets. Bobbie (obviously the only player concentrating at the time) won our first ever Beer Card. The Four Aces took out the prestigious Tortoise Trophy.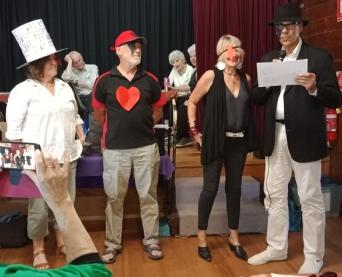 The Dodos (Lene, Merryl, Graham and Catharine) scored the SAAB Trophy. They were closely followed by The Knaves and their Tarts (Dave, Anj, Judi and Geoff).
Thank you everyone who participated in so many different ways.
We are able to donate $255 to Youth Bridge.
And our long suffering Director …. We couldn't do this without you Dallas. Thank you!
And the last word goes to the White Rabbit. Don't be late next year.
The SAAB Team
---
Members update - February 2020
In February the TBA Committee has approved membership applications for the following people. Please make them feel very welcome as you see them around the club.
♠ Julia Goss
♥ Viv McRoberts
♣ Marie Murray-Arthur
Congratulations to the TBA members who achieved rank promotions at the end of January 2020:
♠ Maruta Boyd - Silver Life
♥ Julie Rhodes - Life
♣ John Grosvenor - Regional
♦ Noela Foxcroft - *Local
As at the end of January there were seven Tasmanians in the National McCutcheons Top 10s (cohorts of people who started the year at the same level, ranked by Masterpoints earned in the year). Note that the McCutcheon rankings reset at the start of each year.
♠ Hugh Grosvenor - #4 all ranks, #2 Silver Grand and Above list (108.34 MP)
♥ Barbara Holland - #7 Bronze Life list (19.82 MP)
♣ Maruta Boyd - #9 Bronze Life list (19.74 MP)
♦ Sue Martin - #12 National list (7.72 MP)
♠ John Grosvenor - #4 **Local list (8.31 MP)
♥ Mardi Grosvenor - #5 **Local list (8.31 MP)
♣ Moira Smith - #9 Graduate list (1.82 MP)
The ABF Masterpoint Centre website provides a range of club, state and national reports updated each month. These include promotions, McCutcheons, most improved players, and top 50 Masterpoint earners.
---
Asia Pacific Bridge Federation Congress
In very exciting news for the Asia Pacific Bridge Congress 15-22 April a world class international team is coming to Perth. All have won many National and World Open, Senior and Mixed Championships including:
Sabine Auken from Germany who has won two Women's World Championships, a World Open, a World Mixed Team Championship playing with Zia Mahmood and she has written a popular book " I Love This Game." Her partner is Roy Welland who has won many US National Championships.
Jacek Pszczola, or Pepsi, is ranked 30 in the world and is very well known in Australia having played here a number of times and his wins include a Open World Championship and a Mixed World Championship. Playing with Pepsi is Jacek Kalita of Poland, ranked No 2 in the world.
Reese Milner of the USA is World No 1 Senior and his partner Hermant Lall is No 2 Senior and father of leading international prodigy, 25 year old Justin Lall.
Everybody Welcome
The whole APBF is open to everyone so come to Perth. There are pairs and team's events in Open, Women, Senior and Youth Categories as well as a Bridgefest on the side for experienced or newer players.
Gold Point Events
| | | |
| --- | --- | --- |
| Wed – Thurs | 15 – 16 April | Packer & Co Swiss Imp Pairs |
| Fri – Mon | 17 – 20 April | APBF Teams Championships |
| Tues – Wed | 21 – 22 April | APBF Pairs |
Daily Red Point Sessions
Every day there are one session Red points pairs events for only $20 per player with two session All day Swiss Pairs at the weekend for only $40 per player a day.
Great Value
If you play in the Teams event then you get FREE entry into the Tuesday and Wednesday APBF Gold Point Pairs on 21-22 April. So 6 days of bridge for $400 if you are in a four person team or $67 a day and a total of $267 or $45 a day if you are in a 6 person team.
Get your entry in to play alongside or even against the champions of bridge in Perth at www.abfevents.com.au/events/apbf/2020/
---
What's Happening at the TBA – February 2020
The TBA Committee met on Tuesday February 4th from 7.30pm.
PRESENT : J Rhodes (Chair), K Marsden, S Falkingham, M Gibbs, E Gee, J Grosvenor, G Poulton, J Vernon, S Edler, J Bills
The following matters were discussed :
Progress on Club Extensions
The concept plan has been received from the architect. The next action is to lodge a Development Application with Council, along with an application to extend our lease. Once we have approval for the concept from Council, we can proceed to more detailed design and costing of the project.
Late Payment Fee
Thank you to those who provided feedback on this issue. On the basis of this and on the fact that the TBA receives a financial penalty from the ABF to renew "lapsed" members, a late payment fee of $30 will apply to all membership renewals not received by the date of the AGM.
CPR Training
The committee has decided to ask St John ambulance to conduct training on the use of our defibrillator. Once this is organised, the date will be advertised and any member will be welcome to attend.
Tasmanian Festival of Bridge (TFoB)
Final preparations are underway for TFoB 2020. Make sure you enter before the end of the month if you want the early bird discount. Many thanks to Andrew Richman for his ongoing support of this event.
Beginners Classes 2020
The next series of Beginners Classes will commence on March 3rd (Monday afternoons 1.00pm - 3 .00pm) and 4th (Tuesdays 7.00pm – 9.00pm).
If you know anyone who you think would be interested in taking up bridge, please advise them to register their interest with Sue Falkingham. Flyers with all the details are available at the club.
Youth Bridge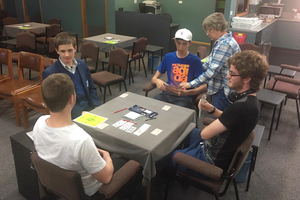 I managed to meet with some of the Members of a Tasmanian team who participated in Youth Week in Canberra in January with the assistance of the ABF and the TBA.
We discussed some hands and and I encourage them to keep playing and to try to play more at their local club.
We are looking at the establishment of a weekly Youth Session at the TBA in 2020.
Recognition of Volunteers
The TBA can only function if it has a Management Committee. All these committee members are volunteers who give of their time to make the Club work.
A big thank you to all those who have assisted in the running of our Club in 2019 both as a member of the committee and those who are not committee members.
There are some TBA members who have served over many years, and they are to be recognised as part of the ABF Volunteer Recognition Program. This year the TBA has nominated the following volunteers for special recognition of their service :
| | |
| --- | --- |
| Keith and Shirley Graver | Dealing Services |
| Margaret Gibbs | 27 years as State Masterpoint Secretary |
| David Robinson | Teaching Services |
| Barry Kelly | Event Entry Co-ordination and promotion |
Best wishes to all those participating in the 2020 SAAB – I'm sure it will be a great success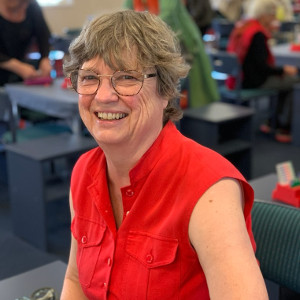 Happy Bridging
Julie Rhodes
TBA President
---
It was a big weekend of bridge in the north of the state with the Devonport Bridge Club's February Swiss Pairs on Saturday 8 February and the Tamar Bridge Club Congress on Sunday 9 February. Both events were well attended, including a sizeable contingent of players from southern clubs. Both were 6 x 9 board IMP scored Swiss Pairs events.
Devonport had 29 pairs playing. First place went to John Bailey and Josef Kuriacose, second to Brian O'Rourke and Mike Longmire, and third to Haj Skilton and Roger Watts. Full results are on the Devonport Bridge Club website. If anybody has photos of the Devonport event to contribute, please email them to the TBA.
Tamar had 34 pairs playing. In the open category first place went to Andrew and Sandra Richman, second to Vicky Cowan and Catherine Elliott, and third to Jane Routley and Judy Mann. In the restricted category first place went to Sue Martin and Sue Falkingham (fifth overall) and second to Phillipa Pitt and Ros Pyrke (sixth overall). Full results are on the Tamar Bridge Club website.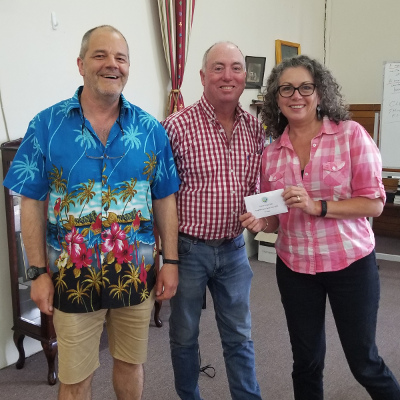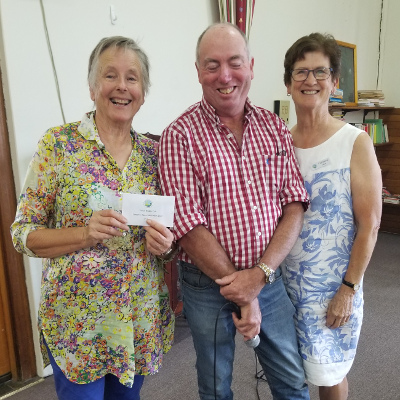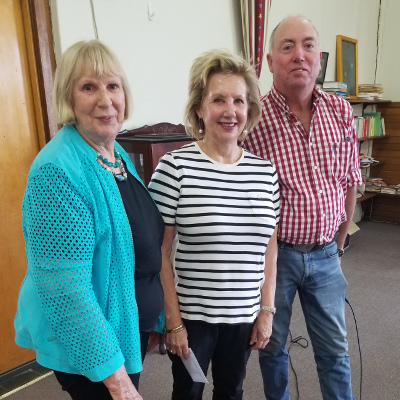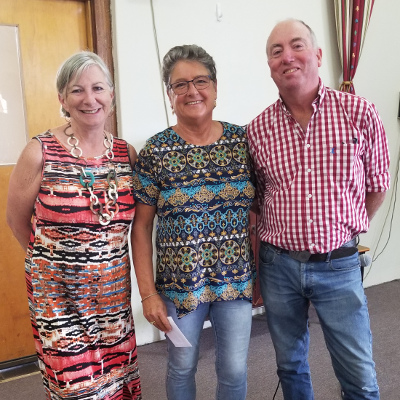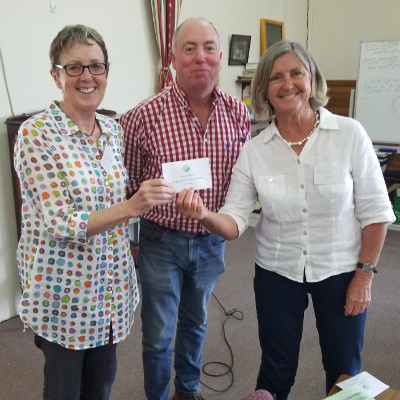 Thank you to both clubs for organising and hosting these events, and in particular for making their southern visitors feel so welcome. Thank you also to Peter and Simon for directing.
---
Bridge Lessons with David Robinson
David Robinson is doing another set of his always popular bridge lessons in March 2020.
This short course answers those questions you didn't like to ask.
Improve your standard bidding and get to the right contract more often.
Suitable for improving / intermediate players.
Wednesday afternoons at 2:00pm until approximately 3:00-3:15pm. Cost is $5 per lesson.
March 4th - Opening 1C/1D and responses/rebids.
March 11th - Opening 1H/1S and responses/rebids.
March 18th - Opening 1NT and responses/rebids.
March 25th - Opening two bids.
Arrive early to get a good seat! Even better - play on Wednesday morning and bring your lunch.
---
The Vera Houdek Pairs for 2020 was played on Sunday 2 February at the TBA club rooms. This is a matchpoint Swiss Pairs event played over 6 x 9 board matches. 28 pairs played - 14 open pairs, 7 restricted pairs (under 300 masterpoints) and 7 novice pairs (under 100 masterpoints).
The overall winners (and top placed restricted pair!) were Annie Bartlett and Julie Rhodes. Second overall were Robert and Jane Tyson. Third overall were Susanne and David Sarten. The top placed novice pair were Mardi and John Grosvenor. Full results are here.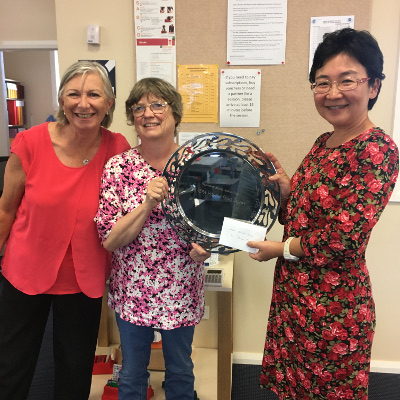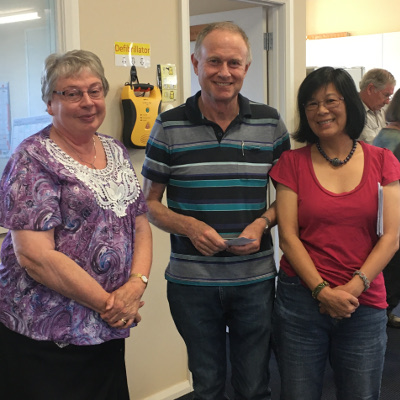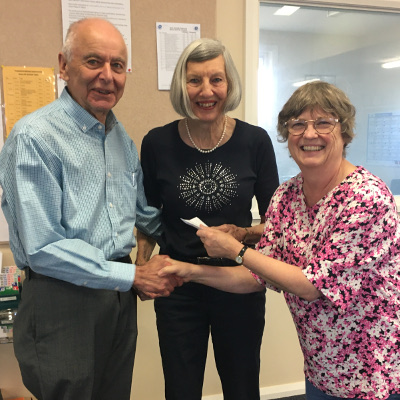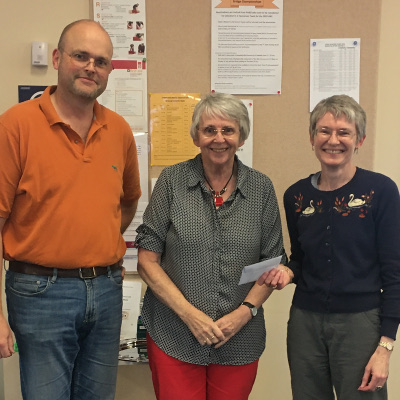 A big thank you to Sue Falkingham for organising and directing the event, and for keeping her cool when the technolgy gremlins struck. Thanks also to Chris Carolan for his telephone support in gremlin eradication. Thanks to all players who brought food for morning and afternoon tea.
---
Congratulations to TBA Life member Dallas Cooper who received the Medal (OAM) of the Order of Australia in the General Division for service to badminton, and to the community, in the 2020 Australia Day Honours list.
Details are available at the Governor-General's website. The entry reads:
---
2020 Australian Youth Bridge Championships
In January 2020 six students from Marist Regional College in Burnie went to Canberra to participate in the Australian Youth Bridge Championships (aka "Youth Week"). The players were Aiden Dixon, Archer Garcia, Ethen Goulter, Taze Jackson, Caleb Kirkpatrick and Ben Sproule. They were chaperoned by Cedric Parker and received supported from the TBA and ABF. This is the first time in a long while that Tasmania has been represented at this event.
The event ran from 4-10 January and included pairs, teams and a youth Butler event. The Butler event was to select six pairs for the Australian Junior Squad, three of whom will represent Australia in the World Bridge Championships in Italy in August this year. Ben and Taze made it through the Butler Finals, ultimately finishing 7th. This was a great achievement for Ben and Taze who are the youngest of the 8 pairs in the finals. They are the only pair that are still at school, and have also been playing bridge competitively for less than a year, meaning that they have had far less experience than the rest of the finalists.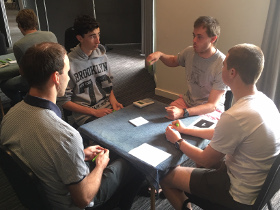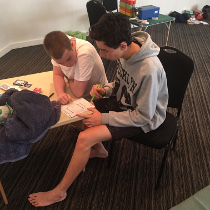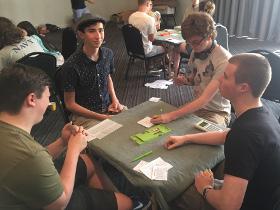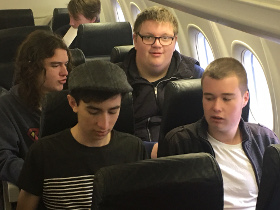 Results for all of the Youth Week events are here
In Cedric Parker's words "... all 6 of our team have acquitted themselves with aplomb. I am incredibly proud of the way they have behaved and the way that they have adapted to a very intense competitive environment. They have done their parents and their college proud!". Congratulations to the entire team for their efforts.
---
2020 Summer Festival of Bridge
The 2020 Summer Festival of Bridge started in a very smokey Canberra on 8 January, running to 19 January. There were seven Tasmanians playing, and Simon Edler was one of the directors.
The standout Tasmanian performance was by Maruta Boyd and Barbara Holland who won the Penline 500 Swiss Pairs Championship, holding first place for match 2 to the end. Maruta and Barbara also came 5th in the Chris Diment Matchpoint Swiss Pairs. Sue Falkingham and Sue Martin (Devonport Bridge Club) also played in the Penline 500 Swiss Pairs Championship and the Chris Diment Matchpoint Swiss Pairs.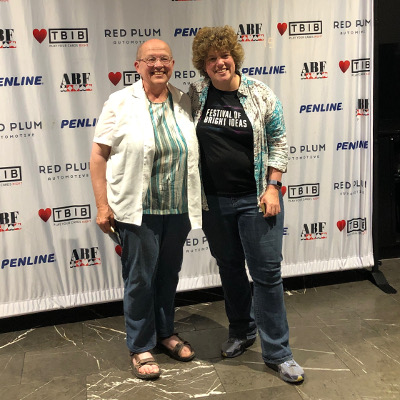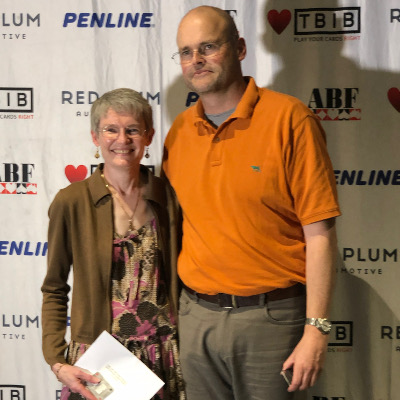 Mardi and John Grosvenor came 2nd in the Two Day National Novice Matchpoint Swiss Pairs Championship and 3rd in the Novice Swiss Pairs Championship.
TBA Life Member Hugh Grosvenor, playing with Tania LLoyd (Newcastle), came 5th in the TBIB National Open Swiss Pairs Championship. Hugh and Tania also played in the South-West Pacific Open Teams Championship with Rose Don and Michael Courtney as the Don team. They came 3rd in qualifying, won their quarter final and semi-final matches, and come second in the National Open Teams finals.
Full results for all 2020 Summer Festival of Bridge events can be found here.
---
TBA Christmas Party & Giving Tree
The 2019 TBA Christmas Party was held on Saturday 14 December. Members contributed generously to a bring-a-plate lunch, and enjoyed a pleasant afternoon's bridge. The club rooms were near full capacity with 23.5 tables playing in three sections catering to players of all levels: supervised, restricted (< 150 MP) and open. The results are here: supervised, restricted, open. Thanks to Sue Falkingham for directing.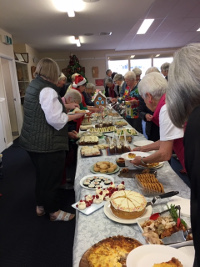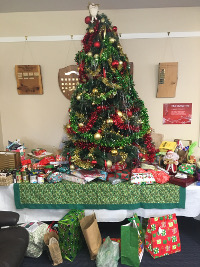 This year TBA members have again supported Colony 47 by donating gifts and hamper items under the TBA Giving Tree. All donations will be collected by Colony 47 on Monday 16 December. Thank you to all members who have contributed.
---
The TBA would like to promote a Buddy scheme for players to transition into regular club sessions. Buddy schemes are being encouraged by the ABF, and similar schemes have had a great impact in New Zealand.
If you are a supervised player and would like a friendly face to play a couple of regular club sessions with let us know. Tell us which sessions would suit you and we will match you up with a Buddy.
If you are a regular club player and would be interested in being a Buddy please let us know which sessions you would be available to play in. There is no table money to play as a buddy, just write 'Buddy' on the money slip. There is a limit of 3 times to play with the same player. A Buddy is not to be a teacher but a friendly partner. Constructive comments only about play may be given but are never done during play but at the completion of a session.
Please email tba@tasbridge.com.au if you are interested in being a Buddy or being paired up with a Buddy.
---
The 2019 TBA Spring Pairs were held at the club rooms on Sunday 24 November. This was an IMP/VP scored Swiss Pairs event played over 6 x 9 board matches. 20 pairs competed, including 5 pairs under National master.
The winners were David Robinson and Julie Rhodes. Second place went to Jane and Robert Tyson, and third place went to Bert Forage and Maruta Boyd. Mardi and John Grosvenor were the topped placed "Category B" (under National master) pair at 12th. Full results are here.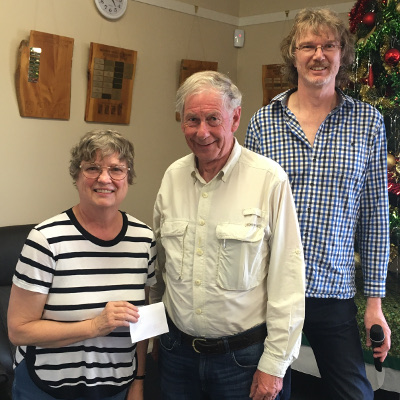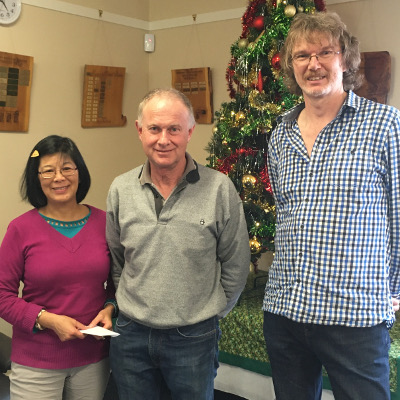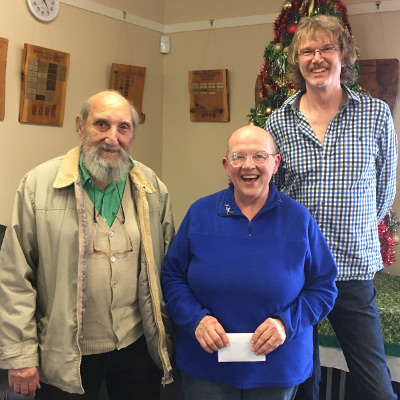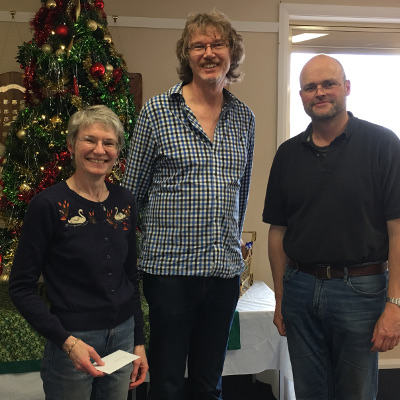 Thanks to Simon Edler for organising and directing the day. Thanks to all of the players who brought food along for the day.
---
Australia-wide Restricted Pairs
Australian Bridge magazine runs three Australia-wide pairs events each year - novice, restricted and open. The restricted event (fewer than 300MP) is the last in the year and was run at the end of October. The TBA session was held on Thursday 31 October. The club rooms were at full capacity with 26 tables playing. Around Australia 973 pairs played the same set of boards and were scored as one national field.
The local results for the TBA session are here. The top placed pairs were:
| | |
| --- | --- |
| North-South | East-West |
| Barbara Giizel - Pam Murphy | Stevie Griggs - Carmel Thomson |
| Marleen Lynch - Helen Morling | Mardi Grosvenor - John Grosvenor |
| Colin McGavisk - Kerry McKillop | Cheralyn Bird - Frank Powell |
In the national single field of 973 pairs, the top placed TBA pairs were:
61st - Stevie Griggs - Carmel Thomson (60.8%) - 12th under 50MP
70th - Mardi Grosvenor - John Grosvenor (60.4%) - 17th under 50MP
84th - Barbara Giizel - Pam Murphy (59.8%)
100th - Florence Lewis-Bryan - Vicki Douglas (58.8%)
113th - Liz Sellen - Clive Sellen (58.2%)
The highest placed Tasmanian pair were David Rogers and Sue Martin from the Devonport Bridge Club who played in the Tamar session. They were placed 51st with 61.2%.
Thanks to Chris Carolan for organising and directing this demanding session for the TBA. The national results are available here. The summary for the 2019 Australia-Wide Novice Pairs is here. The summary for the 2019 Australia-wide Open Pairs is here. Watch out for the first of the 2020 series, the Australia-wide Novice Pairs. coming at the end of May 2020.
---
Melbourne Cup - Bridge + Lunch
The race that stops the nation didn't stop the TBA. 43 pairs came to the TBA on cup day for a day of bridge, fashion, food and racing.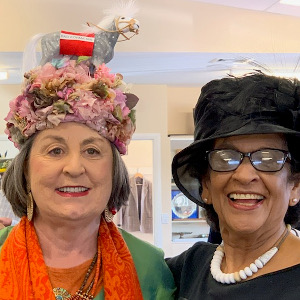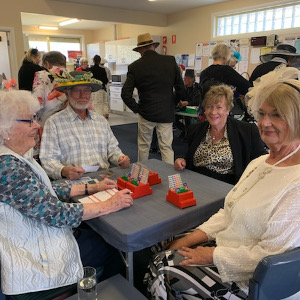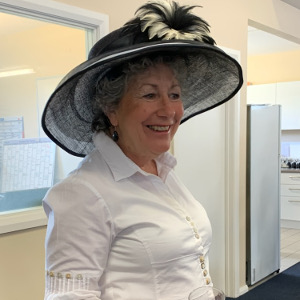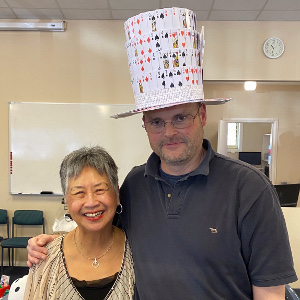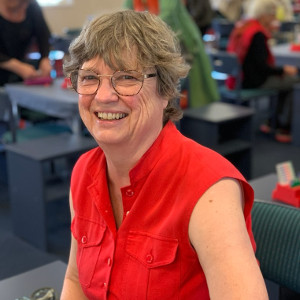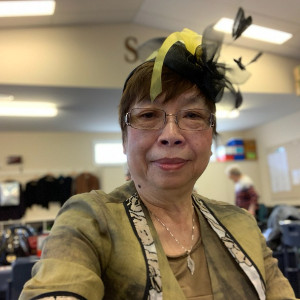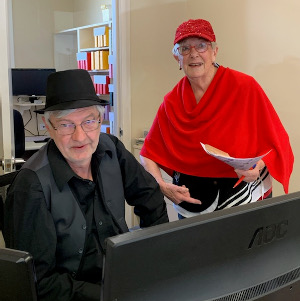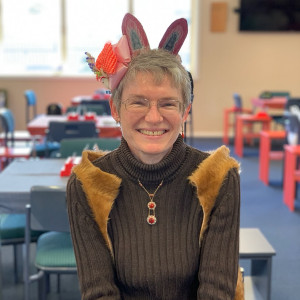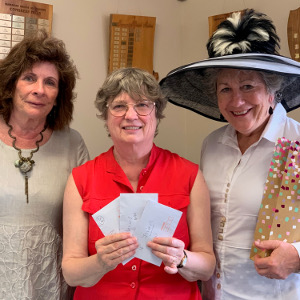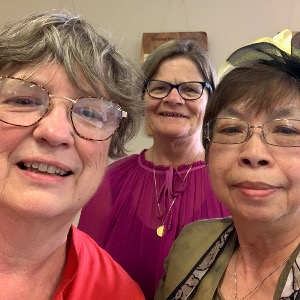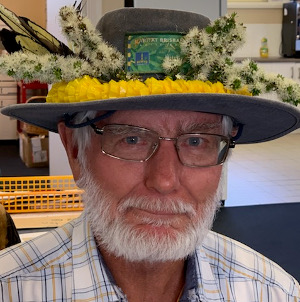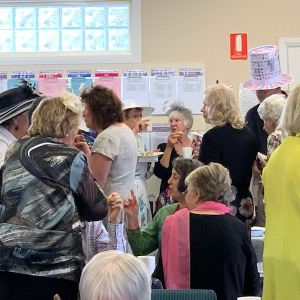 The bridge results are here. Winners were:
Highest placed pair NS: Sarah Howard and Maria Gibbs
Highest placed pair EW: Pam Murphy and Barbara Giizel
Highest placed pair under 50 masterpoints: Kay Thiessen and Heather Viney
Highest placed pair under 5 masterpoints: Anna Chivers and Dorothy Stevenson
Best female outfit went to Sandra Miedecke. Best male outfit went to Graeme Poulton. Best hat went to John Grosvenor, with an honourable mention to Andrew Walter. Best fascinator went to Dianne Kriegs.
Thanks to Jan Colville for leading the organisation for the day. Thanks to Chris Carolan for Directing. Thanks to Julie Rhodes for organising lunch, and to everybody who brought food and helped with the catering and clean-up.
---
Tasmanian Swiss Pairs Championship 2019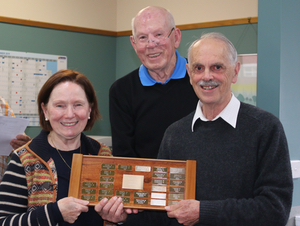 Over the weekend of 26-27 October the 2019 Tasmanian Swiss Pairs Championship was help in Devonport. 18 pairs competed, with players from clubs around the state. Seven 14 board matches were played over four sessions.
The winners were Roger Watts (Devonport BC) and Pamela Lidl (Tamar BC), pictured here with Director John Bailey. Second were Roger Swain (Tamar BC) and Frank Milford (Tamer BC). Third were Margaret Robertson (Tamar BC) and Margaret Gibbs (TBA). Full results are on the Devonport Bridge Club website.
Thanks to John Bailey for directing, and to the Devonport Bridge Club for hosting the event.
---
TBA Novice Pairs Championship 2019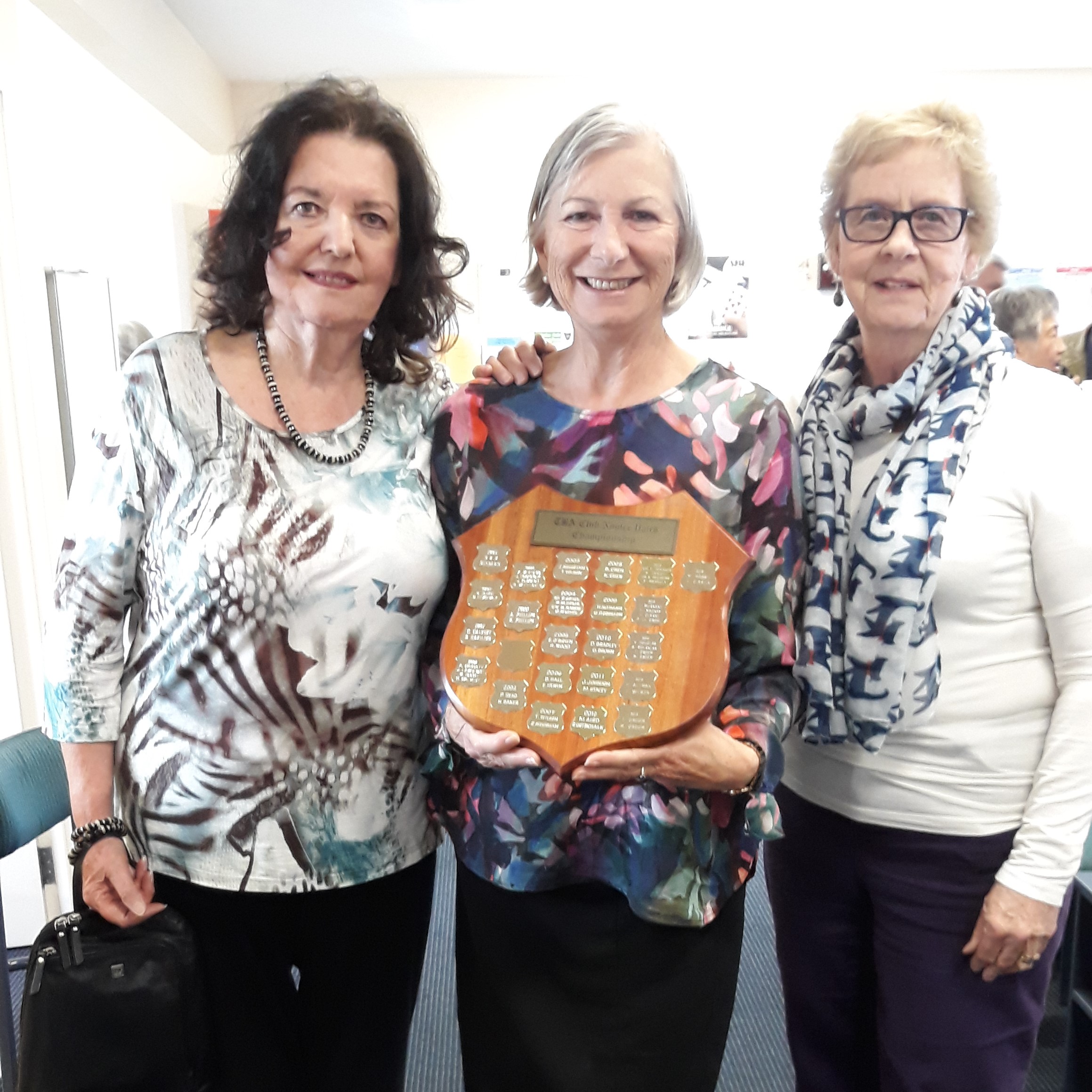 The 2019 TBA Novice Pairs Championship was held on Wednesday 16 October 2019. Entry was restricted to players with fewer than 25 Master Points as at 30 June 2019. The club rooms were close to full with 20 pairs competing in a separate section in parallel with the regular Wednesday morning session. The field included a number of pairs playing for the first time in a non-supervised session, including players from this year's beginners courses.
Congratulations to the winners, Sandra Miedecke and Alice Stillwell. Special mentions to Paul Fredheim (6th), Wendy Gilson (9th) and Lindsey Johnstone (9th) who earned their first Master Points in the event. Full results are available here. Thanks to Sue Falkingham for directing the event.
---
Launceston Bridge Club Congress 2019
The weekend of 5-6 October 2019 saw a full weekend of bridge in the north with the Launceston Bridge Club Congress. The Congress had pairs competitions on Saturday (8 pairs in the Restricted and 29 pairs in the Open) and Swiss Pairs on Sunday (38 pairs).
Top positions went to (click on the titles to go to the full results):
| | | |
| --- | --- | --- |
| Restricted | Open | Swiss |
| 1. Jean Murray & Kevin Crombleholme | 1. Jane Tyson & Angela Little | 1. Bert Forage & Maruta Boyd |
| 2. Elizabeth Sward & Phillip Powell | 2. Sandra & Andrew Richman | 2. Jane Tyson & Angela Little |
| 3. Pauline Anderson & Wendy Newman | 3. Bert Forage & Maruta Boyd | 3. Julie Rhodes & Anna Egan |
Jane Tyson & Angela Little
Open 1st, Swiss 2nd

Sandra & Andrew Richman
Open 2nd, Swiss 6th

Maruta Boyd & Bert Forage
Open 3rd, Swiss 1st

Julie Rhodes & Anna Egan
Swiss 3rd

Wendy Newman & Pauline Anderson
Restricted 3rd

A packed room ready to start
---
2019 Open and Womens Pairs Championship
On Sunday 25 August 2019 18 pairs competed over two sessions in the 2019 Open and Womens Pairs Championships.
The open winners were Michael Woodhams and Bert Forage, placed first and second in the morning and afternoon sessions respectively. Womens champions and second in the open were Julia Corr and Maria Gibbs. Third place in the open went to Margaret Robertson and Margaret Gibbs. Full results are at: morning, afternoon, overall
Thanks again to Simon Edler for a busy weekend of directing, and to the volunteers who ensured that the day ran smoothly.
---
2019 Restricted Pairs Championship
The 2019 Restricted Pairs Championship was held at the TBA club rooms on Saturday 24 August 2019. The event was open to pairs with less than 150 masterpoints as at 31 March 2019, with 12 pairs competing.
First place was taken by Marg Enright and Gill Robinson by a healthy margin of 34 match points. Second place went to Julia Johnson and Geoff Green. Third place went to Sue Martin and Sue Falkingham. Full results are at: morning, afternoon, overall
1st - Gill Robinson and
Marg Enright (absent)

2nd - Julia Johnson
and Geoff Green

3rd - Sue Martin and
Sue Falkingham
Thanks to Simon Edler for directing, and to the volunteers who ensured that the day ran smoothly.
---