President's Message | Bridge is Back! | Members update | Forum announcement | Dallas Cooper OAM | COVID19 closure
What's Happening at the TBA - July 2020
The TBA Committee met at the TBA on Tuesday July 7th from 7.30pm.
PARTICIPATING : J Rhodes (Chair), M Gibbs, J Grosvenor, A Paton, L Cooke, M Sherlock, S Edler, E Gee, K Marsden, I Bailey, G Poulton
APOLOGIES : J Bills, S Falkingham
The following matters were discussed :
Getting back to Face to Face bridge at the TBA!
The TBA recommenced sessions at the Club on Friday June 26th with a COVID-19 Safety Plan in place. It has been great to see our members back catching up with their friends and enjoying playing at the club again.
Whilst it was very strange to sit across a "socially distanced" table at first with partner so far away, by the second week we have largely acclimatised and are now taking the new arrangements in our stride.
As we could not predict how many people would return to bridge immediately, and we currently have limited numbers due to the COVID-19 restrictions, we developed a booking system which guarantees you a seat at the table.
However, if you are not able to book a table on line, there is a very good chance of just being able to turn up with your partner and get a seat at present, with empty tables at most sessions.
After reviewing the operation of our COVID-19 Safety Plan, the Committee has decided that it is not practicable to temperature test all comers. Thermometers will be available to test interstate visitors, and anyone who has a concern about their temperature. All other measures will still be implemented.
Coming Events
Restricted Pairs
On Monday nights July 27th and August 3rd the TBA is holding a Restricted pairs event at the Club. Only people with fewer than 150 Masterpoints can enter, so register your interest quickly on the TBA Booking System as numbers will be limited to 24 pairs.
On those nights, people with over 150 masterpoints will be invited to participate in the on-line sessions.
Roger's Teams
Roger's teams will recommence Friday July 17th from 7.15 pm. Booking are essential, via the booking system and closing 8:00pm Thursday 16th.
Wednesday Night Bridge
Wednesday Night bridge will recommence from July 22nd at 7.15 pm.
Annual General Meeting
The Annual General Meeting (which was deferred after the closure of the TBA) is now scheduled for Saturday September 5th from 1.00pm. Sadly we won't be able to enjoy our usual feast this year, but we are offering free bridge for all those who attend the AGM. All Committee positions will be declared vacant, so if you would like to join the committee in any capacity, look for a nomination form, fill it in, and hand it to our Secretary. We are always looking for enthusiastic people to join the committee and help us run the TBA.
TBA/BBO Online Bridge
We are currently running five TBA sponsored BBO sessions each week on Wednesdays at 1.15pm (Rookie Session with Sue Falkingham) Thursdays at 10.00am, Fridays at 1.15pm and Monday and Wednesday nights at 7.15pm.
It is great to see players from the North and North West of Tasmania joining in these sessions along with TBA members.
The ABF has started running an Australia Wide pairs competition on BBO every Sunday afternoon at 2.30pm. This is an opportunity to improve your bridge by playing against different people with a wide level of experience.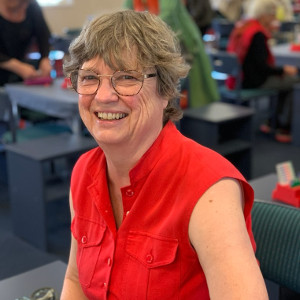 See you back at the Club soon!
Julie Rhodes
President, TBA
---
Breaking News - Bridge is Back!

The following message went out to all TBA members on 20 June 2020
Bridge is back on June 26th – although not quite as we know it.
Due to Tasmania's early move to Level 3 COVID-19 restrictions, the TBA can resume running bridge sessions from Friday June 26th at 10.00am
The conduct of these sessions will still be subject to the TBA COVID-19 Safety Plan (see attached and on the TBA web site) so be prepared to sign an undertaking (also attached and on the web site) that you will only come if you are well, have your temperature taken, sanitise your hands on entry and bring your own mug and/or water bottle to bridge. Also, if you will be paying your table money by cash, please bring exact change with you.
But wait – there's more ...
Due to our 24 pair participation limit, we recommend that you register to participate in each session. This will save you from travelling to bridge, only to find that there isn't a seat for you. The TBA has developed a Player Registration system, to ensure you can reserve a place at your favourite sessions.
From Tuesday 23 June to can get access to the system by going to shdc.tech and clicking "New account activation", then enter your ABF number and click "Activate". This will send you an email containing a link to let you specify a password and logon to the system (check your Junk mail folder if the email does not appear to arrive). Once logged on you can book seats by clicking the "Book seats" link next to the session you want to play in. Initially all sessions will require bookings to be made for pairs rather than individuals. More instructions on how to use the new system will be available on the TBA website (here).
If neither you nor your partner have supplied the TBA with email addresses you can book seats by contacting a director or emailing the TBA.
Once you have completed the COVID-19 obstacle course, we look forward to seeing you back at our club soon.
We will commence with the following sessions at the Club :
Monday - 10.00 am - Supervised
Monday - 7.30 pm - Single section with parallel session online
Tuesday - 10.30 am
Wednesday - 10.00 am
Thursday - 9.30 am - Single section with parallel session online
Thursday - 1.15 pm
Friday - 10.00 am
Saturday - 1.15 pm
We will move quickly to re-establish other sessions once we assess that there is sufficient demand for them.
Roger's teams will recommence on Friday July 17th
In addition to these sessions running at the TBA, we will continue to conduct some online sessions for the convenience of members.
These will be held as follows :
Monday 7.15pm - Open (Parallel Session with TBA)
Wednesday 1.15pm - Rookie session with Sue Falkingham
Wednesday 7.15pm - Open
Thursday Morning 10:00am - Open (Parallel Session with TBA)
Friday 1.15pm - Open
This message is going out by "snail mail" to members who have not provided email addresses. Nevertheless if you are in contact with a member who may not have received this by email, please let them know the good news (a copy of this message will also be on the TBA website).
Looking forward to seeing you all very soon!
Julie Rhodes
TBA President
---
With the slow down in Australian bridge activity due to COVID-19 April and May saw no Masterpoint rank promotions for TBA members. The ABF has also suspended the national McCutcheon Awards for 2020. State and Club McCutcheon reports are still available from the ABF Masterpoint Centre website.
The TBA Committee has approved two new membership applications. Please welcome Anne FitzGerald and Helen Squier, and we look forward to be able to see them in person soon.
The ABF Masterpoint Centre website provides a range of club, state and national reports updated each month. These include promotions, McCutcheons, most improved players, and top 50 Masterpoint earners.
---
We have added an online forum to the website. This is intended to be a private area for TBA members to connect online to talk bridge or whatever, particularly in this period of social distancing (or rather this period of "physical distancing" when "social connection" is so important).
The forum is really easy to use. For those not familiar with forums here is a quick introduction (or just jump in and give it a try):
What is an online forum?
It's a place for people to interact online. An online forum is a webpage that allows people to read and create content that can be seen and responded to by other people on the forum. Forum content is usually text based but can include images and links to other online resources.
Where is the forum?
The forum is here. There is also a link at the top of this page (under "Other links")
How do I get access to the TBA Forum?
Access to the TBA Forum is restricted to TBA members only. All TBA members who have supplied an email will have received an email inviting them to join the forum. If you have provided an email address to the TBA but have not seen your invitation please check your junk mail folder in case it has been intercepted by your spam filter.
Click on the link in the email and complete the short form to set-up your forum account and get access. Individual accounts are needed as they control access to the forum and identify your posts on the forum.
Use of the forum is free to all members, and purely optional. You can also delete your forum account at any time.
Do I need an email address to access the forum?
Yes, you cannot set-up an account without supplying an email for the invitation. If you have not provided the TBA with an email address already you will not receive an invitation (as we have no address to send it to). You can email us to add an email address to your membership record. Please include your name, ABF number and the contact phone number you have previously provided the club so that we can clearly identify you as a member.
In a number of cases member couples share the same email address in their membership details. In these cases the email address will receive a single invitation to join the forum. If both members would like a forum membership, please email us with a second email to be used for a second invitation.
How is the forum organised?
The TBA Forum is organised into high level categories such as "Online bridge". The categories are created by the forum administrator, so if you think we should create a new category, email us with your suggestion.
Members can create new topics within a category. For example you could create a topic "Why my finesses always fail" within the "Card Play" category. You create a new topic by clicking the "New Topic" button at the top right of the categories page (or within a category). You then give your topic a title, enter your content and save it.
Members can reply to an existing topic. Just click the "Reply" button at the top right of a topic, compose your reply and save it. You can also reply to a topic you started, for example to add to your origional idea or to respond to another member's reply.
Topics are also sometimes called threads as they evolve into a list of posts as other members reply. A post is any content on the forum (ie the top level entry in a topic or a reply)
Some categories and topics may be locked. Members cannot create a new topic in a locked category or reply to a locked topic.
What can I do on the forum?
The main thing people do on a forum is connect and share content by reading others' posts, creating new topics and replying to existing topics. These can be questions, comments, photos, links to useful websites, or anything that you think might be of interest to other TBA members.
The forum software we are using is very powerful and has lots of features that many members will not use. For example you can:
follow topics so that you get email notifications of any new replies on a topic
see who else is currently logged on (click the "x users online" at the bottom of the forum page)
send private messages to other members on the forum
send email messages to other members on the forum (Note that doing this will not show you their email address, but they will see yours)
send instant messages to other members currently on the forum
use a chat room to interact with other members
How do I add an account photo?
When you create a new forum account you will be identified on posts by an icon (or avatar) which initially is a coloured square containing your initials. You can easily replace this with an image of your choosing. Click on your account icon at the top right of the window and select "Edit Profile" from the menu that appears. Click on the square representing a photo and follow the instructions to select an image from your computer or device. If you have already uploaded an image you can view it, change it or delete it using the buttons next to "Avatar" on the Edit Profile page.
What should I NOT do on the forum?
Think of the forum as an online extension of the TBA clubrooms. Behavior that would be inappropriate in the clubrooms would be inappropriate in the forum. Anything you post on the forum will be visible to every other member on the forum.
What do I do if I get stuck?
If you are not sure how something works on the forum feel free to experiment - you can't break anything. If that doesn't work try posting a question under the "Forum Questions" category. If all else fails email us.
---
Congratulations to TBA Life member Dallas Cooper who received the Medal (OAM) of the Order of Australia in the General Division for service to badminton, and to the community, in the 2020 Australia Day Honours list.
Details are available at the Governor-General's website. The entry reads:
SAAB | Devonport and Tamar | Vera Houdek Pairs | Youth Week | Summer Festival | Christmas Party | TBA Spring Pairs | Aus-wide Restricted Pairs | Melbourne Cup | Tas Swiss Pairs | TBA Novice Pairs | LBC Congress | Open & Womens Pairs | Restricted Pairs | Older events
The Southern and Ancient Beaches Challenge 2020
(Click on the images to enlarge)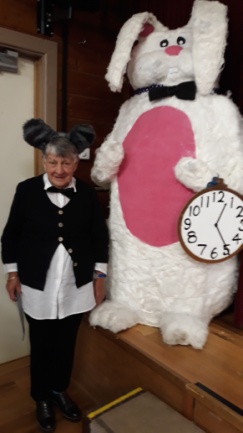 Did you miss our recent trip to Wonderland? Well it's been voted the best yet! We just might have another next year.
You won't win red master points (whatever they are) but you get to play competitive bridge and maybe get your names on a trophy. We can guarantee you some amazing costumes, a fair chance to win a prize and lots of laughs along the way.
Here's a taster to encourage you to come along …
Sixteen teams jumped into motor cars or scurried down rabbit holes to emerge in South Arm sporting mad hats of every description. Decked in pink or hidden under mushrooms or flouncing about as queens and knaves it was hard to think of these characters as serious bridge players.
Flamingos perched on one leg bravely teetering and flapping. Their efforts won them the Best Dressed Team Prize. A couple of knaves brought their tarts along. A team of somewhat dysfunctional Disorderlies gyrated and quivered their way to a meltdown and the coveted Strutters Prize. The Lynch Mob dangled their hangman's nooses menacingly and the Best Dressed Dormouse was undoubtedly … um … a dormouse.
And then there was lunch -- BBQ and salad followed by tiramisu, meringues and fruit all consumed in the sunshine and in excellent company.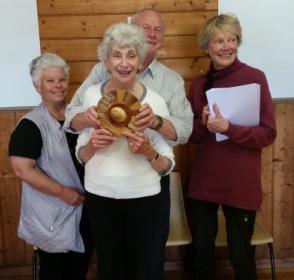 The bridge was seriously contested with winners and losers emerging from beneath piles of scoresheets. Bobbie (obviously the only player concentrating at the time) won our first ever Beer Card. The Four Aces took out the prestigious Tortoise Trophy.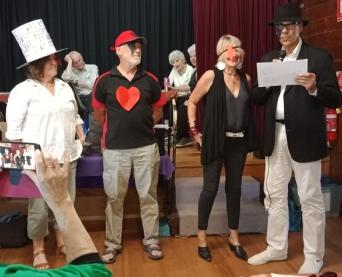 The Dodos (Lene, Merryl, Graham and Catharine) scored the SAAB Trophy. They were closely followed by The Knaves and their Tarts (Dave, Anj, Judi and Geoff).
Thank you everyone who participated in so many different ways.
We are able to donate $255 to Youth Bridge.
And our long suffering Director …. We couldn't do this without you Dallas. Thank you!
And the last word goes to the White Rabbit. Don't be late next year.
The SAAB Team
---
It was a big weekend of bridge in the north of the state with the Devonport Bridge Club's February Swiss Pairs on Saturday 8 February and the Tamar Bridge Club Congress on Sunday 9 February. Both events were well attended, including a sizeable contingent of players from southern clubs. Both were 6 x 9 board IMP scored Swiss Pairs events.
Devonport had 29 pairs playing. First place went to John Bailey and Josef Kuriacose, second to Brian O'Rourke and Mike Longmire, and third to Haj Skilton and Roger Watts. Full results are on the Devonport Bridge Club website. If anybody has photos of the Devonport event to contribute, please email them to the TBA.
Tamar had 34 pairs playing. In the open category first place went to Andrew and Sandra Richman, second to Vicky Cowan and Catherine Elliott, and third to Jane Routley and Judy Mann. In the restricted category first place went to Sue Martin and Sue Falkingham (fifth overall) and second to Phillipa Pitt and Ros Pyrke (sixth overall). Full results are on the Tamar Bridge Club website.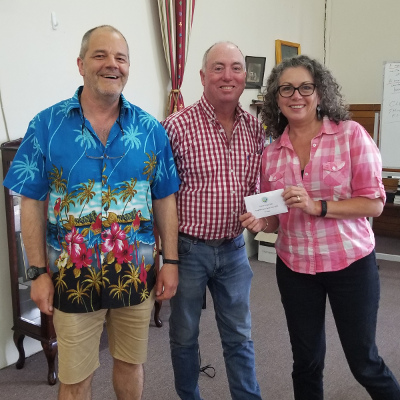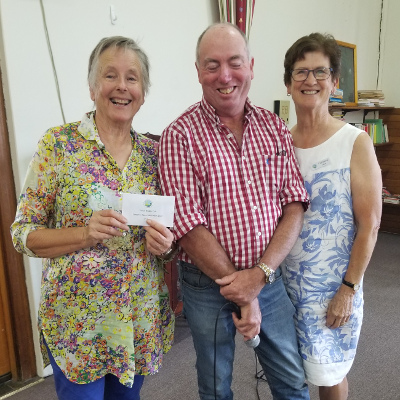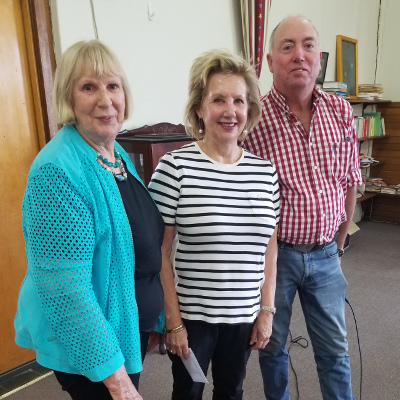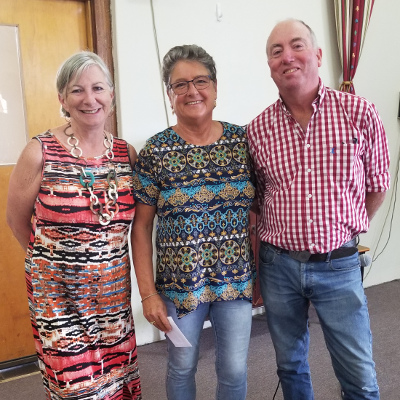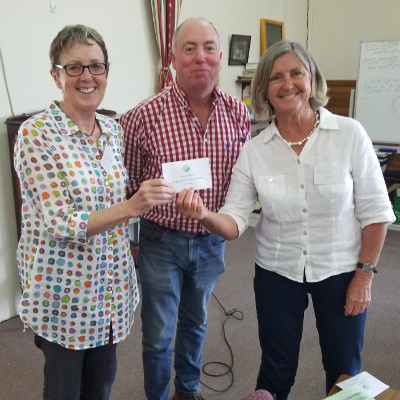 Thank you to both clubs for organising and hosting these events, and in particular for making their southern visitors feel so welcome. Thank you also to Peter and Simon for directing.
---
The Vera Houdek Pairs for 2020 was played on Sunday 2 February at the TBA club rooms. This is a matchpoint Swiss Pairs event played over 6 x 9 board matches. 28 pairs played - 14 open pairs, 7 restricted pairs (under 300 masterpoints) and 7 novice pairs (under 100 masterpoints).
The overall winners (and top placed restricted pair!) were Annie Bartlett and Julie Rhodes. Second overall were Robert and Jane Tyson. Third overall were Susanne and David Sarten. The top placed novice pair were Mardi and John Grosvenor. Full results are here.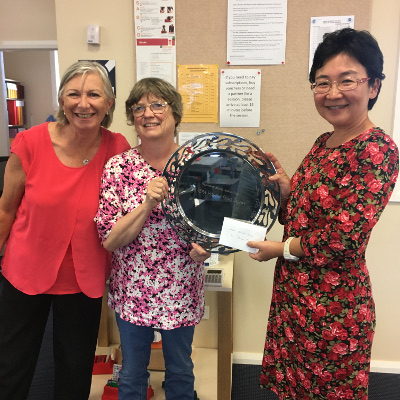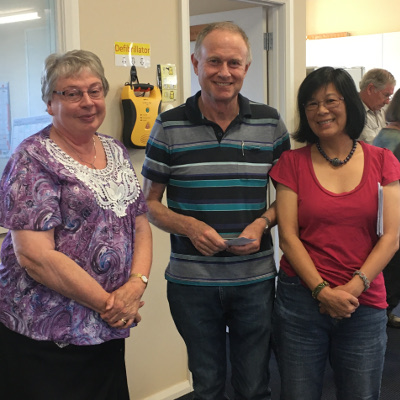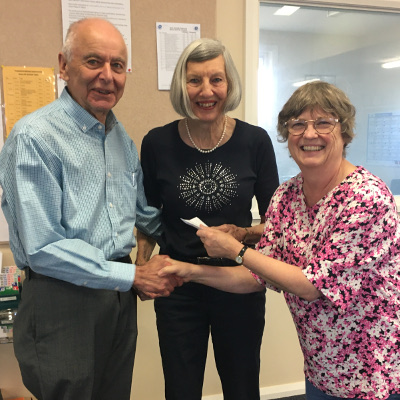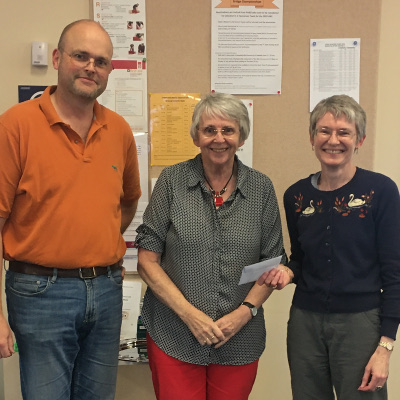 A big thank you to Sue Falkingham for organising and directing the event, and for keeping her cool when the technology gremlins struck. Thanks also to Chris Carolan for his telephone support in gremlin eradication. Thanks to all players who brought food for morning and afternoon tea.
---
2020 Australian Youth Bridge Championships
In January 2020 six students from Marist Regional College in Burnie went to Canberra to participate in the Australian Youth Bridge Championships (aka "Youth Week"). The players were Aiden Dixon, Archer Garcia, Ethen Goulter, Taze Jackson, Caleb Kirkpatrick and Ben Sproule. They were chaperoned by Cedric Parker and received supported from the TBA and ABF. This is the first time in a long while that Tasmania has been represented at this event.
The event ran from 4-10 January and included pairs, teams and a youth Butler event. The Butler event was to select six pairs for the Australian Junior Squad, three of whom will represent Australia in the World Bridge Championships in Italy in August this year. Ben and Taze made it through the Butler Finals, ultimately finishing 7th. This was a great achievement for Ben and Taze who are the youngest of the 8 pairs in the finals. They are the only pair that are still at school, and have also been playing bridge competitively for less than a year, meaning that they have had far less experience than the rest of the finalists.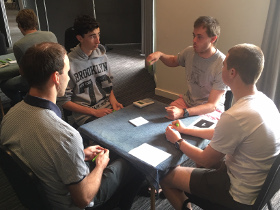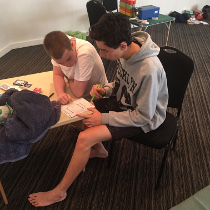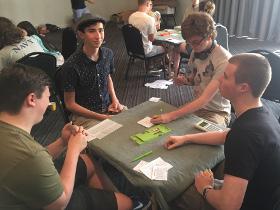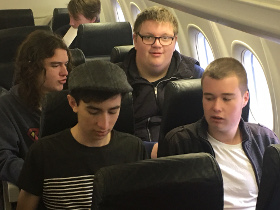 Results for all of the Youth Week events are here
In Cedric Parker's words "... all 6 of our team have acquitted themselves with aplomb. I am incredibly proud of the way they have behaved and the way that they have adapted to a very intense competitive environment. They have done their parents and their college proud!". Congratulations to the entire team for their efforts.
---
2020 Summer Festival of Bridge
The 2020 Summer Festival of Bridge started in a very smoky Canberra on 8 January, running to 19 January. There were seven Tasmanians playing, and Simon Edler was one of the directors.
The standout Tasmanian performance was by Maruta Boyd and Barbara Holland who won the Penline 500 Swiss Pairs Championship, holding first place for match 2 to the end. Maruta and Barbara also came 5th in the Chris Diment Matchpoint Swiss Pairs. Sue Falkingham and Sue Martin (Devonport Bridge Club) also played in the Penline 500 Swiss Pairs Championship and the Chris Diment Matchpoint Swiss Pairs.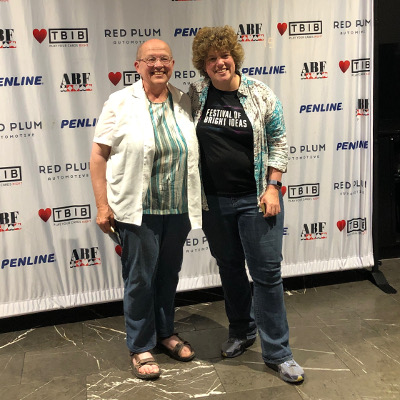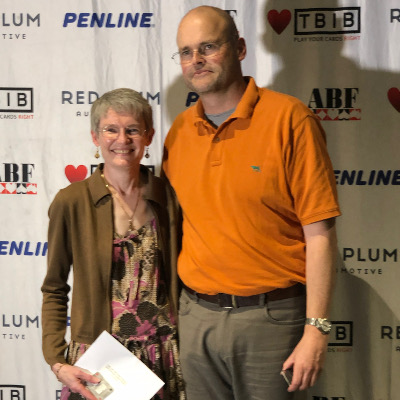 Mardi and John Grosvenor came 2nd in the Two Day National Novice Matchpoint Swiss Pairs Championship and 3rd in the Novice Swiss Pairs Championship.
TBA Life Member Hugh Grosvenor, playing with Tania LLoyd (Newcastle), came 5th in the TBIB National Open Swiss Pairs Championship. Hugh and Tania also played in the South-West Pacific Open Teams Championship with Rose Don and Michael Courtney as the Don team. They came 3rd in qualifying, won their quarter final and semi-final matches, and come second in the National Open Teams finals.
Full results for all 2020 Summer Festival of Bridge events can be found here.