---
Quick links: 2019 AWOP | News at the TBA | Members update | David Robinson's Lessons | Beginners' Courses | 2019 Open & Womens Pairs | 2019 Restricted Pairs | 2019 ANC | 2019 TBA Congress | 2019 AWNP | 2019 TFOB
---
Melbourne Cup - Bridge + Lunch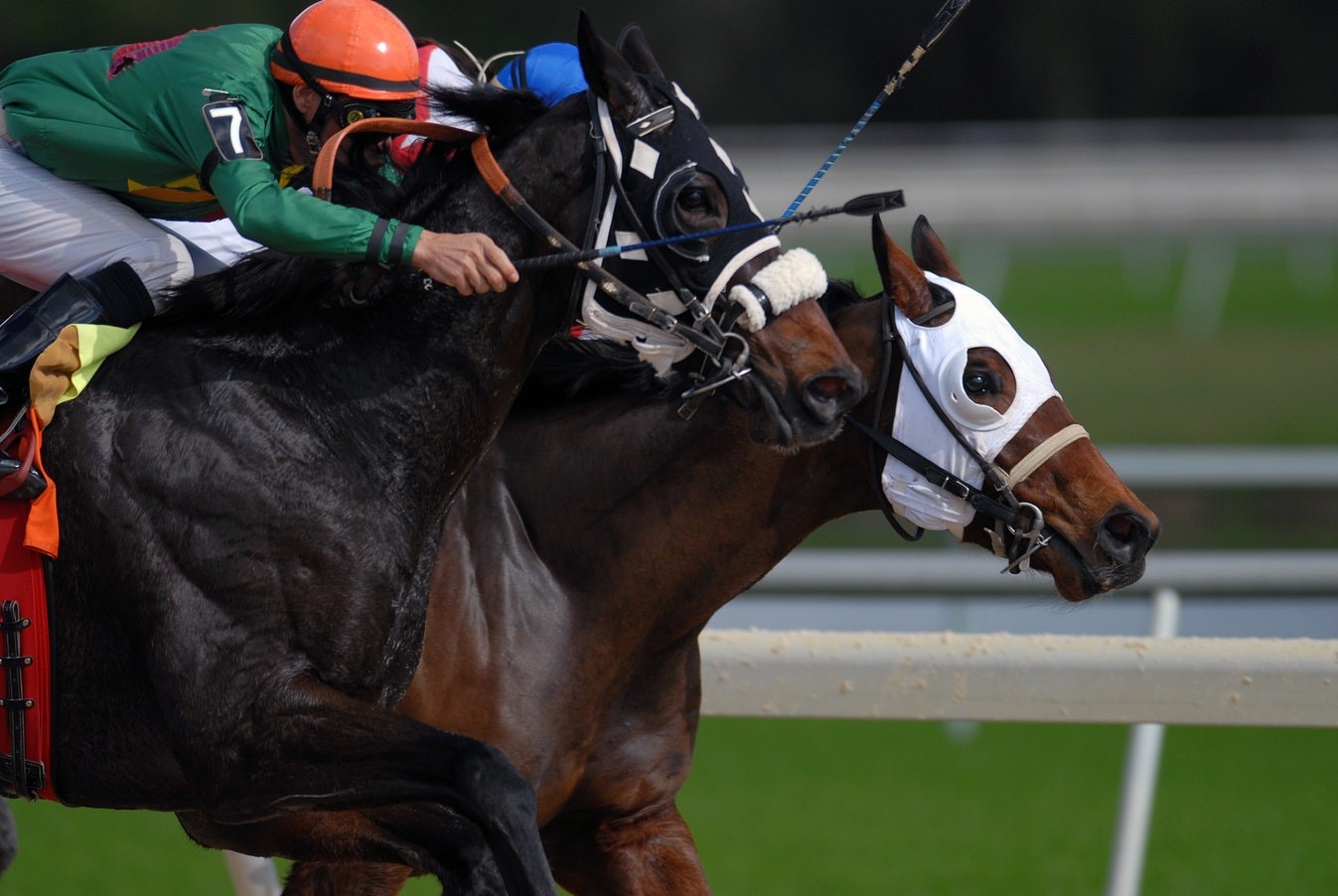 Dress up. Join your bridge friends for the race that stops Australia. Come as a pair or we will find a partner for you.
Limited to 26 tables and filling fast, so enter soon. $20.00 per pair.
Sweeps, prizes for best outfit, best hat and best bridge (overall, under 50 MP and under 5 MP). Red master points.
Tuesday 5 November, starting at 10:30am, lunch at 2:00pm. See here for all the details and online entry, or see the posters and sign-up sheet at the club.
---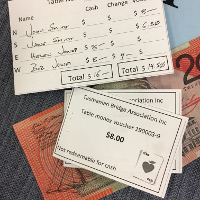 Members have requested a more convenient way to pay their table money. As a first step the TBA is introducing booklets of prepaid table money vouchers.
Booklets contain 10 vouchers and cost $80 or $65 (Concession). Booklets can be purchased from Directors before the start of a regular session, with cash or credit card.
Simply present a voucher at the table instead of cash. Vouchers can be used in conjunction with cash for sessions with higher than normal table money. Vouchers cannot be used for discounted sessions. Vouchers can be transferred between players (you can pay for your partner!). Vouchers are not redeemable for cash.
---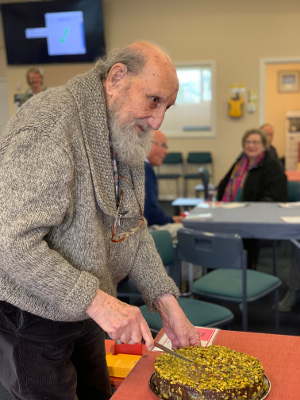 It was a pleasure and a privilege to celebrate Bert Forage's 98th birthday in a break in this morning's session at the TBA. Bert is a (very) long standing and much admired member of the TBA, and ABF Grand Master. His most recent victory was in the 2019 Open and Womens Pairs Championship in August.
So Happy Birthday Bert, and wishing you good health and many more sessions at the TBA.
---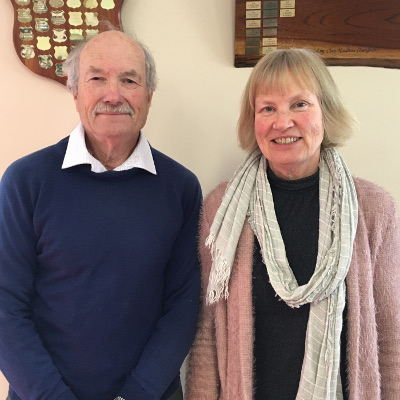 Australian Bridge magazine runs three Australia-wide pairs events each year - novice, restricted and open. The Australia-wide Open Pairs was held in the last week of August. The TBA session was run on Friday 30th, with 22 pairs competing. The same boards were played by 1,165 pairs around Australia and scored as one field.
The highest placed TBA pair were Julia Johnson and Rod Barnett who came 5th nationally with 68.9%! Congratulations to Julia and Rod on a fantastic result. The next two TBA pairs made it into the top 50 and top 100 respectively: Maruta Boyd and Barbara Holland at 38th with 64.9%, and Bob Patterson and Maria Gibbs at 66th with 63.3%.
The full results are available here. The Australia-Wide Restricted Pairs (fewer than 300 masterpoints as at 31 August) is scheduled for October 2019 with the TBA session planned for the morning of Thursday 31st August.
---
What's News at the TBA – September 2019
Youth Bridge
Prior to the monthly Committee Meeting on September 3rd we were lucky enough to hear from Bianca and Leigh Gold about Youth Bridge initiatives being sponsored by the ABF. Some of these will be discussed at the Ross Meeting of State Bridge Clubs but one very interesting initiative was a Grandparent Day, whereby Grandparents bring their grandchildren for a day of bridge related activities. The children need know nothing about bridge, and the day is designed to provide a fun experience introducing preliminary bridge related concepts. We are thinking about organising our first Grandparent Day in April next year - more details will be available closer to the event.
Training and Beginners Classes
Beginner and intermediate training is off to a fine start with Sue Falkingham preparing to commence her next series of Beginners Classes on October 14th (Monday afternoons) and October 15th (Tuesday evenings). If you have friends who want to learn bridge, the next series of classes is a good opportunity for the to begin!
David Robinson will take over from Sue with a series of Wednesday afternoon training sessions, commencing in October. These will run for approximately 1 hour at a cost of $5 and are suitable for improving beginners and intermediate level players. [See here for topics and other details]
Intermediate/Advanced Training
At present, the TBA provides training at the Intermediate/Advanced level over the State team training weekend, typically held in July. We are investigating the possibility of providing more training at this level, but would like to hear from members who would be interested in attending classes at this level. If you are interested in intermediate/advanced training, please complete our short web based survey [COMING SOON] on the topics which would interest you, and suitable timing for the training.
Cashless payments
While we are investigating a complete technological solution for cashless payments, we have decided to introduce a voucher system as an interim solution for people who would prefer to prepay their table money.
Concession Card Audit
Over the next few weeks, Directors have been asked to check that players claiming a table money concession have a valid concession card. If you are claiming a concession, please ensure that you bring your card with you to bridge so that it can be checked and recorded.
Walk In Session Policy
The TBA has clarified its policy with regard to advertised walk in sessions. It is as follows :
Players who "walk in" to a session will be able to play with either another "walk in" player, or with the Director who is supervising that session.
Directors who are being paid to supervise a session will only play if they are playing with a "walk in" player.
It is not appropriate for Directors who are being paid to supervise a session, to play in that session with a regular partner, as there is potential for ethical conflict. That is, a Director may have to rule on a hand they are yet to play. They also have knowledge of hand records etc.
Melbourne Cup Event
Our (now) annual Melbourne Cup Bridge Luncheon will be held on Tuesday November 5th from 10.30 am. Red Masterpoints will be available along with a chicken and champagne lunch. Cost is $10 per person and we are seeking volunteers to bring either sandwiches (for morning tea) or cakes/desserts/ fruit platters for lunch. Jan Colville is co-ordinating the event, so please let her know if you can bring a plate, and what you would like to bring.
Coffee break will be held around 12.00 noon with lunch at the conclusion of bridge at 2.00pm. A range of sweeps will be held and there will be a range of "best dressed" prizes. Look out for more details closer to the event and remember to register your intended attendance. Last year we had to close the event after 26 tables!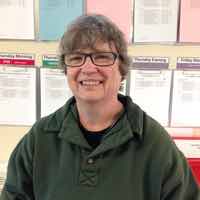 Happy Bridging
Julie Rhodes
TBA President
---
September 2019 Members updates
The TBA Committee has approved membership applications for the following people. Please make them feel very welcome as you see them around the club.
| | |
| --- | --- |
| ♠ Pam Noga | ♥ DeAnn Robinson |
Congratulations to the TBA members who achieved rank promotions at the end of August 2019:
♠ Gail Garth - *State
♥ Julia Johnson - State
♦ Carmel Thomson - Regional
♣ Anne Francis - Regional
♣ Yvonne Menadue **Local
♦ John Grosvenor - *Local
♥ Guray Sunamak - *Local
♠ Sharn Davies - Local
♣ Beryl Gelling - Club
As at the end of July 2019 there were three Tasmanians in the National McCutcheons Top 10s:
♠ Sue Martin - #5 *State list (59.24 MP)
♥ Anna Egan - #10 *State list (50.35 MP)
♣ Mardi Grosvenor - #3 Graduate list (20.59 MP)
The ABF Masterpoint Centre website provides a range of club, state and national reports updated each month. These include promotions, McCutcheons (rankings by Masterpoints earned this year), most improved players, and top 50 Masterpoint earners.
---
2019 Open and Womens Pairs Championship
On Sunday 25 August 2019 18 pairs competed over two sessions in the 2019 Open and Womens Pairs Championships.
The overall winners were Michael Woodhams and Bert Forage, placed first and second in the morning and afternoon sessions respectively. Overall second place went to Julia Corr and Maria Gibbs. Third place went to Margaret Robertson and Margaret Gibbs. Full results are at: morning, afternoon, overall
Thanks again to Simon Edler for a busy weekend of directing, and to the volunteers who ensured that the day ran smoothly.
---
2019 Restricted Pairs Championship
The 2019 Restricted Pairs Championship was held at the TBA club rooms on Saturday 24 August 2019. The event was open to pairs with less than 150 masterpoints as at 31 March 2019, with 12 pairs competing.
First place was taken by Marg Enright and Gill Robinson by a healthy margin of 34 match points. Second place went to Julia Johnson and Geoff Green. Third place went to Sue Martin and Sue Falkingham. Full results are at: morning, afternoon, overall
1st - Gill Robinson and
Marg Enright (absent)

2nd - Julia Johnson
and Geoff Green

3rd - Sue Martin and
Sue Falkingham
Thanks to Simon Edler for directing, and to the volunteers who ensured that the day ran smoothly.
---
2019 Australian National Championships
The 2019 Australian National Championships is on in Melbourne from 13-15 July.
Tasmania had three state teams competing in the Interstate Teams:
Open - Jane Tyson, Robert Tyson, Andrew Richman, Sandra Richman (PC), John Bailey, Hilton Francis
Women (picture below, L-R) - Maruta Boyd, Dallas Cooper (PC), Maria Gibbs, Anna Egan, Julie Rhodes, Julia Corr
Senior - Valda Badcock, Judy Mann, Fiona Hickey, Alaine MacMorran, Sue Martin, Sue Falkingham (PC)
Sadly Tasmania did not have a Youth team. The full list of state teams is here.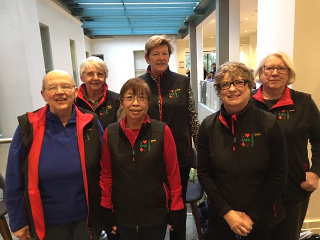 The ANC Interstate Teams Qualifying finised on Wednesday. The results are available here.
In addition to the ANC teams events there are a range of ANC and Fringe Bridge Festival events on, with various Tasmanian players are participating. Full details are available at the 2019 ANC Website
---
The 2019 TBA Congress was held over the weekend of 29-30 June at the TBA club rooms.
Sunday was the Swiss pairs, with a field of 36 pairs competing over 6 rounds of 9 boards. The full results are here.
1st - Sandra and Andrew
Richman

2nd - Dallas Cooper and
Maruta Boyd

3rd - Barbara Holland and
Bert Forage

4th - Ian Mansfield and
Bob Patterson

5th - Julian Corr and
Maria Gibbs

Restricted - Rose Rowell and
Marleen Lynch
Saturday saw the rooms packed for three sections of matchpoint pairs. 17 pairs played in the open, 18 in the restricted (fewer than 150 masterpoints) and 14 in the novice (fewer than 25 masterpoints). Full results are here: open, restricted, novice
Open - 1st - Sandra and Andrew
Richman

Open - 2nd - Jane and Robert
Tyson

Open - 3rd - Wynne Webber and
Ann Paton

Restricted - 1st - Mary Hawthorne and
Gail Garth

Restricted - 2nd - Anna Egan and
Annie Bartlett

Restricted - 3rd - David Marshall and
Marian Van Den Byllaardt (absent)

Restricted - 4th - Julia Johnson and
Geoff Green

Novice - 1st - Mardi and John
Grosvenor

Novice - 3rd - Edward Gee and
Jeggs Nuttall
The presentations were made by TBA Vice-president Lynne Cooke, with TBA Chief Director Simon Edler loitering in the background. Absent for the presentations were 2nd placed novice pair - Debbie Easther and Pam Batrouney.
The novice field included four pairs of players yet to make Graduate master. They were congratulated on taking the step of entering a congress event. The best performing pair in this group - Elizabeth Taranto and Jan Sheen - received special recognition for their achievement in coming fourth.
Thanks to Simon for all of his work organising and running the congress, and to all members who brought food and helped organise the weekend.
---
The 2019 Australia-Wide Novice Pairs was held in the last week of May and the national results have just been finalised. The competition is run each year by Australian Bridge magazine in conjunction with the ABF. This year 1,433 pairs from ~90 clubs played the same set of boards. The competition is restricted to players with fewer than 100MP, with separate rankings for players with fewer than 50MP. The results were scored locally (for green masterpoints) and again nationally (for red points). Personalised scorebooks were produced including detailed results and analysis for each hand.
The TBA session was held on the evening of Wednesday 29 May, with thirteen pairs competing. The top pairs on the night were Maureen & Brendan Richardson, Jane Dickie & Leonie Atkins, and Karen Andrews & Julianne Edwards. In the national scoring the top ranked TBA pairs were Mardi & John Grosvenor (160th), Jane & Leonie (211th) and Maureen & Brendan (221st). The summary for the results for the TBA pairs is here.
The top ranked Tasmanian pairs were Maureen & Brian Rawding from Devonport (28th), Kevin Crombleholme & Paul Chisholm from Launceston (65th), and Haj Skilton & Robert Jago from Devonport (95th). The national winners were Neil & Christine Cramer from the Blue Mountains. Detailed national results are available here.
Australian Bridge will be running an equivalent Open event in August, and a restricted event in October.
Thanks to Jenny Penny for running the TBA session, and to Sue Falkingham and Malcolm Sherlock for organising the boards and booklets.
---
2019 Tasmanian Festival of Bridge
The 2019 Tasmanian Festival of Bridge was held at Wrest Point Casino Hotel in Hobart from 28th to 31st March 2019
There were a record number of participants with 140 pairs competing in the premier event, the TBIB Australian Swiss Pairs. 86 pairs contested the Roger Penny Senior Swiss Pairs, 62 pairs in the TFOB Restricted Swiss Pairs and 16 pairs in the Island Matchpointed Swiss Pairs.
| | |
| --- | --- |
| TBIB Australian Swiss Pairs Winners David Beauchamp and Jodi Tutty | TFOB Restricted Swiss Pairs Winners Jack Foreman and Bob Ransom |
| Roger Penny Seniors' Swiss Pairs Winners Phil Gue and Nigel Rosendorff with TBA President Julie Rhodes | Warren Walker Memorial Prize winners Rob and Jane Tyson with Sue Thompson-Walker. This prize, donated by Sue, is for the best placed Tasmanian Pair in the TBIB Australian Swiss Pairs. |
Go to the Tournament Website for more information and results.