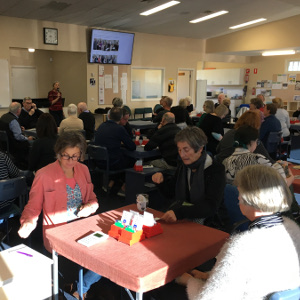 Packed house on Monday morning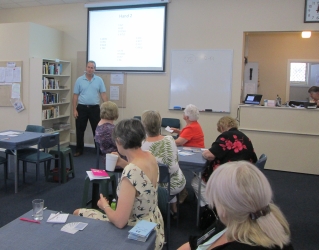 It all sounds so easy until you come to bid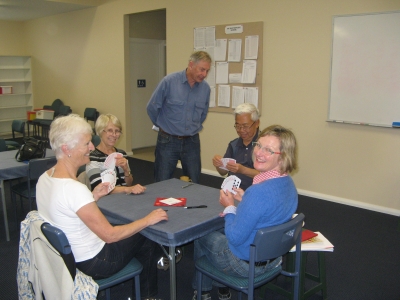 David shares a learning moment with
enthusiastic club members
Learning Bridge and Improving Your Game
---
Note: Due to the COVID-19 pandemic all lessons and training session at the TBA have been temporarily stopped.
---
♦ David Robinson's Bridge Lessons
David Robinson is doing another set of his always popular bridge lessons in March 2020.
This short course answers those questions you didn't like to ask. Improve your standard bidding and get to the right contract more often.
Suitable for improving / intermediate players.
Wednesday afternoons at 2:00pm until approximately 3:00-3:15pm. Cost is $5 per lesson.
March 4th - Opening 1C/1D and responses/rebids.
March 11th - Opening 1H/1S and responses/rebids.
March 18th - Opening 1NT and responses/rebids.
March 25th - Opening two bids.
Arrive early to get a good seat! Even better - play on Wednesday morning and bring your lunch.
---
♠ 6 week beginners' courses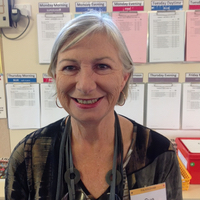 These six week courses are ideal for people just starting in this wonderful game. They are taught by our ABF accredited bridge teacher Sue Falkingham. Over 50 people completing this introduction to bridge in 2019, with many now playing regularly at the TBA.
The beginners' courses are on again in 2020:
Mondays, 1:00-3:00pm, 2 March to 6 April 2020
Tuesdays, 7:00-9:00pm, 3 March 2020 to 7 April 2020
The cost is $120 per person, including a copy of the book used in the course. Contact Sue or email the TBA to learn more, register interest or enrol.
Contact Sue Falkingham: 0411 646 888.
---
♥ Monday morning lessons

The Monday morning sessions (10:00am-12:30pm) are a mix of teaching and supervised play. Ideal for novice players wanting to practice and learn in a friendly atmosphere. A great next step from the six week beginners' course. Players are welcome with or without partners. Normal TBA table money applies.

Contact Sue Falkingham: 0411 646 888.
---
♣ Supervised play

Supervised play is a useful option for newer players. The TBA offers four sessions with supervised sections:
Tuesday mornings (if there are at least 3 supervised tables)
Wednesday mornings (separate supervised section - no partner required)
Wednesday evenings (fully supervised session)
Thursday evenings (if there are at least 3 supervised tables)
See the Sessions page for full session details.
---
♠ Improvers' training

Sue Falkingham ran a very popular Improver's Course at the TBA in August 2019. The topics covered were:
Overcalls and Responses
Two Suited Overcalls (Michaels)
Overcalls of opponents' 1NT (Cappelletti)
Look out for more sessions in the new year.
---
♥ Director training

The TBA periodically runs director training sessions. See the TBA calendar for any upcoming sessions.
---
♣ The library

The club has an extensive library of bridge books, carefully curated by our dedicated librarian - Richard Cooke. The library has books suitable for players of all levels. The library is located in the Vera Houdek room.

The library is for the use of the members. Books can be borrowed, but please read and promptly return your loans so that others can enjoy them. 2/3 weeks is a reasonable loan period.

A synopsis of the latest additions to the library is here. A full list of all 410 titles in the library, including commentary, is here.