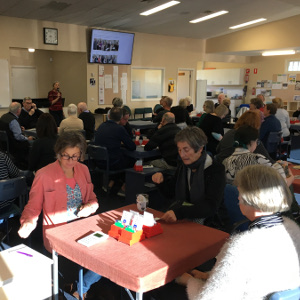 Packed house on Monday morning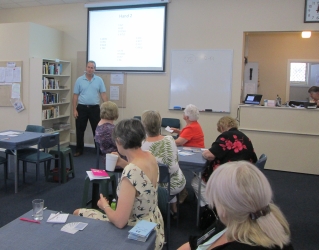 It all sounds so easy until you come to bid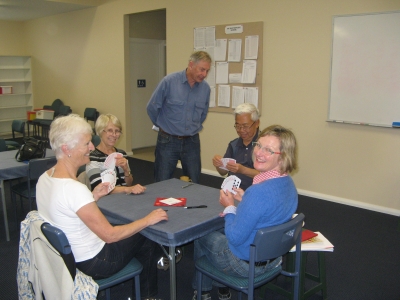 David shares a learning moment with
enthusiastic club members
Learning Bridge and Improving Your Game
---
♠ Improvers' lessons

Sue Falkingham is running two four week Improver's Courses starting in February 2021. The courses will be held:
Wednesdays, 1:45-3:45pm starting 3 February, or
Saturdays, 10:00am-noon starting 6 February,
The topics to be covered are:
Week 1 - Stayman and transfers.
Week 2 - Strong 2♣ openings.
Week 3 - Slam bidding.
Week 4 - Overcalls of opponents' 1NT (Cappelletti)
The cost is $50 covering lessons, notes and playing prepared practice hands. The brochure is available here.
Book online with the TBA Booking system or email the TBA to register or make enquiries.
Contact Sue Falkingham: 0411 646 888.
---
♥ 6 week beginners' courses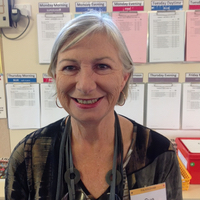 These very popular six week courses are ideal for people just starting in this wonderful game. They are taught by our ABF accredited bridge teacher Sue Falkingham.
The first set of courses for 2021 start in February. The courses will be held:
Mondays, 1:00-3:00pm starting 22 February, or
Tuesdays, 7:00-9:00pm starting 23 February,
The cost is $120 per person, including a copy of the book used in the course. Contact Sue or email the TBA to learn more, register interest or enrol. The brochure is available here.
Contact Sue Falkingham: 0411 646 888.
---
♣ Monday morning lessons

The Monday morning sessions (10:00am-12:30pm) are a mix of teaching and supervised play. Ideal for novice players wanting to practice and learn in a friendly atmosphere. A great next step from the six week beginners' course. Players are welcome with or without partners. Normal TBA table money applies.

Contact Sue Falkingham: 0411 646 888.
---
♦ Supervised play

Supervised play is a useful option for newer players. The TBA offers the following sessions with supervised sections:
Monday mornings (no partner required), lesson and supervised play
Tuesday mornings (if there are at least 3 supervised tables)
Tuesday evenings (no partner required), preceeded by a 15 minute lesson
Wednesday mornings (separate supervised section - no partner required)
Wednesday evenings (fully supervised session)
See the Sessions page for full session details.
---
♦ David Robinson's Bridge Lessons
Thank you to David Robinson who gave a great set of lessons last year. The theme was improve your declarer play and make those all important extra tricks. The topics covered were:
Trumping losers in dummy
Discarding losers on dummy's winners
Finesses

Direct, indirect, combination, double, ruffing, safety and backwards

Hold up plays
Cross ruffing techniques
Techniques to establish a long suit

Ducking, ruffing and finessing

Unblocking plays
Avoidance plays

Simple situations, hold ups, swapping losers, Morton's fork, scissors coup, loser on loser

End plays

Throw ins and eliminations

Loser on loser
Dummy reversal
Squeeze plays

Basic squeeze mechanism and what to look for
We are hopeful that we can persuade David to run some more lessons in 2021. If you have any suggestions for topics, please email the TBA
---
♠ Director training
The TBA periodically runs director training sessions. See the TBA calendar for any upcoming sessions.
---
♥ The library

The club has an extensive library of bridge books, carefully curated by our dedicated librarian - Richard Cooke. The library has books suitable for players of all levels. The library is located in the Vera Houdek room.

The library is for the use of the members. Books can be borrowed, but please read and promptly return your loans so that others can enjoy them. 2/3 weeks is a reasonable loan period.

A synopsis of the latest additions to the library is here. A full list of all 410 titles in the library, including commentary, is here.